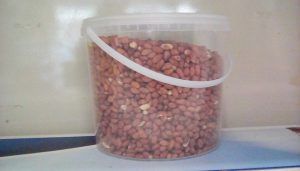 We offer a container refill service on the weigh up products we have in store.
As a company we are trying to reduce the amount of plastic we use and the subsequent impact that plastic has on the environment. The majority of the plastic bags our weigh up products come in are taken home and the contents put into another container, that plastic bag then goes straight in the bin.
Please bring in those containers that you use at home and we can refill them saving on plastic and waste to landfill.  If you are a loyalty customer you will also receive 10 extra points per container for every refill.
Products we can currently refill are:
WILD BIRD FOOD
Wild Bird Food, Black Sunflower Seeds, Sunflower Hearts, Peanuts, Softbill Food (Robin), Niger Seed, Ground & Table Mix, Mixed Suet Pellets, Striped Sunflower Seeds, Wild Berry Mix, Luxury Robin Mix
AVIARY & POULTRY BIRD FOOD
Budgie, Foreign Finch, Mixed Canary, Parakeet, Parrot, Millet Sprays, Mixed Millet, Mixed Corn, Layers Pellets, Layers Mash, Chick Crumbs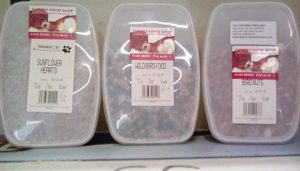 BIRD PRODUCTS
Bird Sand, Bird Grit, Fine & Coarse Oyster Shell, Cuttle Fish
DOG FOOD & BISCUITS
Terrier Biscuit Meal, Puppy Biscuit Meal, Puffed Rice, Bran, Shapes, Gravy Bones (Chicken & Original), MIxed Biscrok, Mini Bonio, Bonio (Original & Happy Fibre), Charcoal & Mixed Cobs, Mini Marrowbone Rolls, Marrowbone Rolls, Cheese & Bacon Toasties, Skinners Milk, Chocolate Drops
FISH FOOD
Pond Pellets (Small, Medium & Large), Mixed Blend Pellets & Sticks, Oranges & Cream Pond Sticks, Koi Sticks, Wheatgerm Pellets, Wheatgerm Sticks
RABBIT
Rabbit Pellets and Molassed Rabbit Mix, Banana Chips